Hacker Tip 25 :: Internet Radio Station
Ok, listen up my biatches. Today I will be teaching you how to set up the Internet Radio Station using the shoutcast.
First. Unless you have a server to run the radio off already. You need to set up your computer to do that. Download the
Shoutcast DNAS Server.
Also there will be all the neccesary info about the

settings that you can conf.
After you have downloaded and install that. Use can use Winamp to run your radio station (

There are other alternative that I will update to tell you later

)
Firstly you must get the lastest version of Winamp. (Direct link to download)
To get the plugin for Winamp download it here.
For more broadcasting tools/infomation check it out here.

Ok, once those are fully installed its time to set it up.
Starting with the conf of the server.
Go to Start -> All Progams -> Shoutcast DNAS -> Edit SHOUTcast DNAS configuration.
In there, you can select the port you want. (8000 is the default and it works fine)
Also there, you can set the MaxUser. This should reflect your internet connect. If you have broadband 16 is a good start. For phone modems, Radio Internet isnt for you. Phone modems are old and slow, Ramzi's advice is to update NOW.

Also change the password


Example


Password=ramzi
(If you are behind a router, you need to set port forwarding on Ports 8000 to your computer. For more infomation check at PortForward.com)

After that is set up. Run SHOUTcast DNAS (Console).
If everything is working you should get the following message.


Next, we need to set up the Winamp Part.
Open up Winamp and Press Ctrl + P (For options)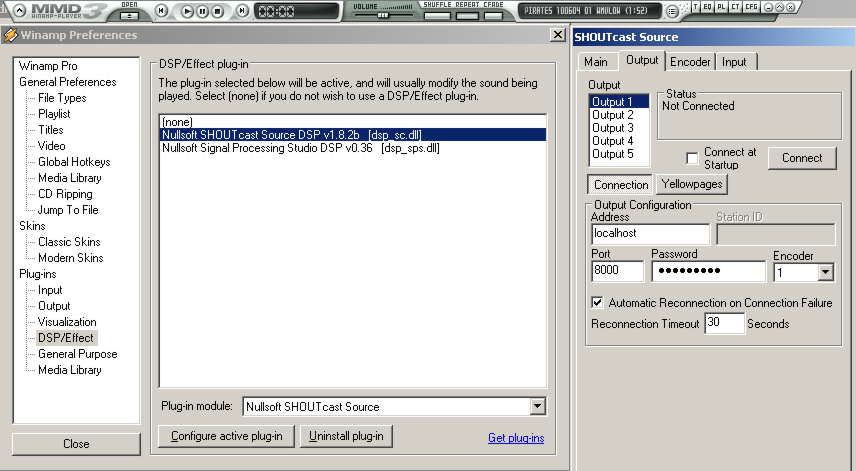 Goto DSP/Effect -> Nullsoft SHOUTcast Source DSP v1.82b (Select it) -> Configure active plug-in. And a plugin window should open.
Next its time to set up Radio Encoder Setting. Click Encoder and on the first encoder (Doesnt matter which one)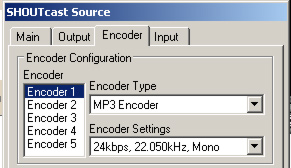 Set the Encoder Type to MP3. Then the Encoder Setting to what reflects your upload speed and your audience.
Next, time to conf your station to your server. Goto Output. Select Output 1. Then Connection.
Set the address to localhost, port 8000 (unless you changed it) and password to what you set to your server. Also select the right encoder.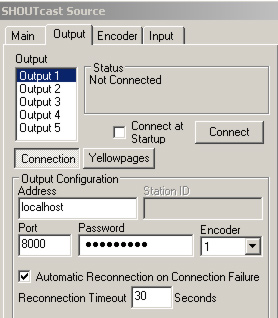 Next, its time to make your Radio Station personal! Under Output click Yellowpages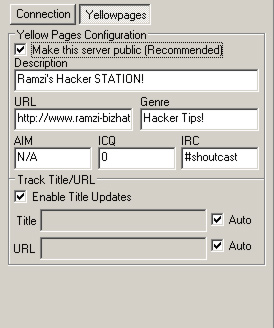 Screw around with these to get what you want. Next, its time to set the Input.
You have to option here, Either use Winamp as your Input Device.
Or if you have a Mic and want to add some commetary to your radio station Use as "Soundcard Input" the Input Device . Then select Microphone below. When you want to talk press "Push to Talk" and set the Music Level, BG Music Level.. etc to whatever you want.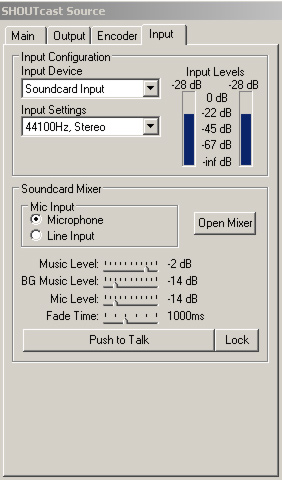 Next, its time to Air this baby. With your Shoutcast DNAS Server Running, On the Winamp Plugin goto Output (Select the Output you choose) and Click CONNECT.
(If ever thing worked your should get a message like this above)


Now that the Radio Station is up, give it too your friends. Whats your Radio Station Address?
Its your ip:port that you decicded to use.
(The port is 8000 by default, unless you deciced to change it.)
You can find your ip at
WhatsMyIp.
So for example, if you ip was 81.68.122.212 and you used the default port 8000. The Shoutcast Radio station address would be
http://81.68.122.212:8000
(not real, nothing there)

There you go my Hacker Biatches, how to set up Pirate radio and piss off the RIAA.
You can set up a Static DNS for your IP, with
No-Ip.org
This means you can register an address that forward to your Radio Station. Eg
http://ramzi-station.no-ip.org (-> Forward to http://81.68.122.212:8000) (NOTE JUST AN EXAMPLE).
Making your radio station easier to remeber or whatever. There you go my hacker biatches. Get making and post your Radio Station in the comment, I will check them out ;)
Peace out to the broken crew, you all leet
--Ramzi--